We believe that here at Jack Warwick Funeral Service we offer among the most competitively priced funeral services available locally and Nationally. However, we also believe that your choice of funeral director should not be made based upon price alone.
We would urge anyone requiring funeral services to make contact with a Funeral Director and speak to them before deciding whether to appoint them or not.
Your initial conversation with a funeral director should be friendly, helpful and reassuring and you should be provided with the confidence that you and your family's best wishes will be a priority and that every effort will be made to ensure that your loved one is treated with the care and dignity you would expect. We strongly recommend that you do not proceed unless you receive initial helpful guidance and you are comfortable speaking to your funeral director from the outset.

WALLIS ROAD, KETTERING, NORTHANTS NN15 6NX
Telephone: 01536 485635
website: www.warwick-funerals.co.uk email: office@warwick-funerals.co.uk
Jack Warwick Funeral Service Limited. Registered in England and Wales.
Company Registration Number 9803226
Directors: LPJ Woodhouse Dip FD and DP Halls BA Hons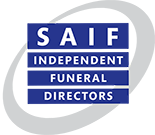 All funeral directors are legally required to publish this Price List for a standardised set of products and services. This is to help you think through your options and make choices, and to let you compare prices between different funeral directors (because prices can vary).
ATTENDED FUNERAL
(Funeral Director's charges only)
£2295.00
ADDITIONAL FUNERAL DIRECTOR PRODUCTS AND SERVICES